Morristown, NJ, July 5-10, 1995
---
After two weeks in New Hampshire, we drove from Newmarket to Morristown, NJ for a family wedding. Lynne's youngest cousin was getting married. We drove through New Hampshire, Massachusetts, Connecticut, New York, and New Jersey in about seven hours. We had a thirty minute traffic jam at the Mass Pike exit to I-84 south - a surprise on a Wednesday morning. We ate lunch in Connecticut at a restaurant I won't mention. We drove the Saw Mill River Parkway to the Tappen Zee Bridge, and had a gorgeous view of the Hudson River - it is over two miles wide there. Our map didn't show that I-287 was open from I-87 to Morristown, so we took the Garden State Parkway to I-80 west. It probably took us an extra 15 minutes, but we were on vacation, so it wasn't a big deal.

We arrived in Morristown on a Wednesday, and the wedding was Saturday night. We planned to spend Thursday in New York City with friends of Lynne's from Brown, and Friday with the kids at the Bronx Zoo. The New York visit is on another page; it rained on Friday, so we scrubbed the Bronx Zoo trip and went to Imagine That Discovery Museums for Children in East Hanover, NJ. They are located on the upper floor of a shopping mall with many partitioned rooms with different activity and exploration areas for children. Thomas enjoyed the musical instruments and the vehicles; Lucy enjoyed the computers and minerals. Many of the activities reminded me of exhibits at the Exploratorium in San Francisco. It was a fine way to spend a rainy morning.

The wedding was at the Livingston Country Club and was quite an affair. The ceremony was very nice and touching; it included bagpipes, a first for a wedding I have attended. Afterwards, we had a great time visiting with family, eating delicious food in many courses, and dancing. This was the first adult party Lucy has attended, and she hit it off with her eight-year-old cousin Amy. They had a great time on the dance floor. We dragged our way back to the hotel at midnight, and the party continued for a while after we left.

We had gone to another family wedding in Morristown in 1987, and that time visited some of the historical sites. George Washington made Morristown his winter headquarters in January 1777, about two weeks after he crossed the Delaware on Christmas Eve on the way to the battle of Trenton. His made his headquarters at the Ford Mansion, which today is a preserved as a museum. He returned with his troops for the winter encampment of 1779-1780 in Jockey Hollow, which is a national park. A number of soldier's cabins have been recreated. Both of these are well worth seeing if you visit Morristown.
This is the Ford Mansion, Washington's headquarters during the winter of 1777 after the Battle of Trenton. We had a very informative tour.


This is Washington's study in the Ford Mansion. The mansion is outfitted with period furnishings. In some cases they are the original items from Washington's visit.


This are soldiers' bunks in Jockey Hollow, the site of the 1779 - 1780 winter encampment. The cabins kept the soldiers out of the wind and snow, but from the looks of things, accommodations were not that comfortable.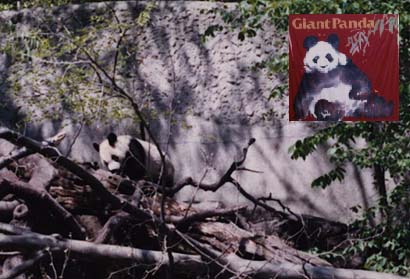 When we were in Morristown in 1987, we did make it to the Bronx Zoo. Ling Ling the giant panda was in residence. She was reclusive; we were about 20 feet away from her when Dick snapped this photo.

We toured many other sections also. Shortly after our visit, Sesame Street visited the Bronx Zoo and we taped the episode; it became a favorite of Lucy's.




---

Related web sites:
---
Return to New Hampshire and New Jersey Trip.
Return to the Hodgman Family Home Page at http://www.hodgman.org/.
Last updated 08/28/96.