Ogunquit, ME, June 26, 1995
---
Lynne's family came to the shore here in Ogunquit when she was growing up. After she and her sister moved out, their parents would come here and stay for bargain prices for her Dad's two-week summer vacation. Lynne has a lot of fond memories of Ogunquit.

As you enter the town of Ogunquit proper, there is a road to the right that leads to Perkin's Cove. It is a collection of tourist shops, restaurants, a marina, and beautiful views.



We stopped at the "Piece of Cake Gallery". The artist/owner was very friendly. We bought some greeting cards.




This house is directly across the road from the "Piece of Cake Gallery". Dick liked the bright color it is painted. See the house across from the beach in Kennebunk for even brighter colors.




We ate lunch at the Lobster Shack. It is at the end of the road down the shopping area at Perkin's Cove. You pay by the pound; the lobsters are weighed and then boiled on the spot. The meal was delicious.




Marginal Way is a one-mile path along the cliff overlooking the beach at Perkin's Cove. Lynne and her family used to walk this path when she was a child.


One of the treats along Marginal Way.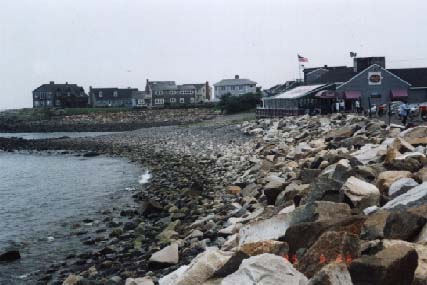 This is the beach. Not great on the feet. I wonder why there are no people walking along the shore?




This is a viewing deck above a dock at Perkin's Cove. Near here, you can sign up for lobstering cruises.


---
Return to New Hampshire and New Jersey Trip.
Return to the Hodgman Family Home Page at http://www.hodgman.org/.
Last updated 08/27/96.