Gilsum, NH, June 29, 1995
---
Dick had wanted to visit Gilsum the afternoon of June 27, but there was too much to do in Merrimack. The trip was rescheduled for June 29. This is his account of that day.

Dick's great-great-great-great-great-great-grandparents Jonathan and Sybil(Fox) Bliss lived in Gilsum during the American Revolution. Dick went to Gilsum to search for records and burial sites.
Gilsum is west of Concord on Highway 9, north of Keene. It is about halfway between Keene and Marlow. I have bought hardware and software from PC Connection, which is based in Marlow and includes a raccoon in its ads to highlight its rural setting. I dropped by and had a nice conversation with the receptionist. The sales staff is now in Keene. The training building, in Marlow, is a huge Victorian building painted bright colors.



I saw this sign on the way from Marlow to Gilsum. I didn't see any moose.




I drove into Gilsum and saw the sign for the town hall. I expected to start my research right away. However, the parking lot was empty - an ominous sign on a Thursday morning, when the town hall shared a building with the town library.

I parked my car and went to the door. This was what was posted:
    Gilsum Town                 Gilsum Public Library Hours

    Office Hours                ---------------------------

    Selectmen                   Mon  1:30- 3:30 & 6:00-8:00 pm

    ------------                Tues 1:30- 3:30 & 6:00-8:00 pm

    Mon 7:00-9:00 pm            Wed  1:30- 3:30 pm

                                Sat 10:00-12:00 noon

Town Clerk/Tax Collection

-------------------------

    Tues 6:00-8:00 pm

    Wed 10:00-12:00 noon

So much for my blowing into town and looking at town records. I should have called ahead, but now it was too late to do that.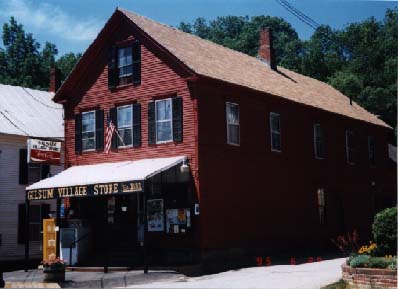 I got back in my car and drove to town. This is the Gilsum Village Store (est. 1881). I went in and bought a sandwich and a root beer for lunch, and asked the clerk for the location of the town burial ground. She directed me just up the road, but the earliest grave was 1835, 36 years too late.

I went back to town and asked at the post office. The clerk drew me a map and directed me to two old graveyards.




I drove toward Keene and proceeded to get lost. After I drove too far down one road, I decided to stop and eat lunch. I sat in my car next to this river. It was beautiful and very peaceful.



I finally got to a burial ground. It was at the end of a road that turned to a two rut road. I got out of the car and walked about five minutes. The ruts had ruts. Then the ruts headed into this swamp. On the other side, where I could barely see them, were several tombstones. I was out of luck.

I found one other cemetery, but the oldest area appeared to have only 1 in 10 tombstones standing.

I decided to drive to Keene for more information, since it is the county seat of Cheshire County. I found no records at the courthouse (most are sent to Concord, the state capitol) but I did find help at the Keene Public Library, the Greater Keene Chamber of Commerce, and at The Archive Center of the Historical Society of Cheshire County. I found clippings from the Gilsum Bicentennial in 1963. There was a map that identified the cemeteries I had found. I found that Gilsum's population, at 738, is only a little larger than at the time of the Revolution. No wonder the town hall has such limited hours. Also, The Keene Sentinel Answer Book of March 30, 1995, states "Lucy Mack, mother of Morman prophet Joseph Smith Jr. was born in Gilsum in 1775."




---
Gilsum on US Genweb

Return to New Hampshire and New Jersey Trip.
Return to the Hodgman Family Home Page at http://www.hodgman.org/.

Last updated 02/25/03.