Wood-Bunker Family Bible
In July 1990, Dick purchased a copy of H. & E. Phinney's Stereotype Edition of the Bible, published in 1843 in Cooperstown, N. Y. at the Nantucket Historical Society's annual de-aquisition sale. Books and other memorabilia for sale were placed on tables in the back yard of the society's library. The back of the bible contains the inscription Wood-Bunker Nantucket Mass.
There are four pages for family records located between the Old Testament and the Apocrypha. They cover marriages, births, and deaths from 1785 to 1899 for the family names Wood, Folger, Bunker, Cathcart, Parry, Joy, and Shaw. I have scanned thumbnail images of the four pages below and entered the data in tables next to the images.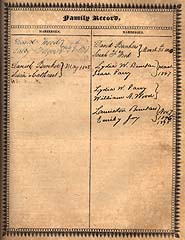 Marriages
Marriages
David Wood
Sally Folger
July 9th. 1807
David Bunker
Sarah F. Wood
March 25th. 1840
Daniel Bunker
Susan Cathcart
May 1805
Lydia W. Bunker
Isaac Perry
March 1867
Lydia W. Perry
William A. Wood
Louiston Bunker
Emily Joy
Nov. 7, 1895
Births
Births
David Wood
Jan'y 27th 1785
Daniel Bunker
Oct 1781
Sally Folger
May 5th 1788
Susan Cathcart
Oct 1782
Phebe F Wood
June 22d 1808
William C Bunker
June 1st 1808
Benj'n T Wood
Ap'l 17th 1810
David Bunker
May 19 1818
Wm W Wood
March 19th 1813
John C. Bunker
July 2d 1822
Michael F Wood
Nov 15, 1815
Mary Bunker
March 1811
Charlotte C Wood
Ap'l 19th 1818
Sarah F Wood
Oct 24th 1820
Lydia H Wood
Aug 22d 1822
Mary ann Wood
July 26th 1824
Births
David Bunker
May 19th 1818
Sarah F Wood
Oct 24th 1820
Lydia W Bunker
Dec 7th 1845
Louiston Bunker
March 27th 1849
Francis B. Parry
Feb 15th 1868
Freddie Parry
April 28th 1870
Emily Bunker
May 29-1862
Isabel W. Joy
June 15-1887
Deaths
Deaths
Daniel Bunker
May 1854
David Wood
Dec 26th 1869
Susan Bunker
1851
Sally Wood
Dec 17th 1859
Mary Bunker
Sept 17th 1827
Benjamin T. Wood
March 17th 1874
David Bunker
Nov. 22-1890
Sarah B. Shaw
in Providence R.I.
February 24th 1875
Sarah F. Bunker
Oct 5, 1896
William W. Wood
Sept. 28-1899
Dick donated scanned copies of the pages to the New England Historic Genealogical Society in Boston; you can find it there. It is in the national bibliographic database at OCLC, available through most public libraries, under call number Mss C 3351.
---
For further information, you can contact Dick Hodgman through http://www.hodgman.org/contact/
Last modified on 2003 January 23